June 14, 2011 by Sandhya Hariharan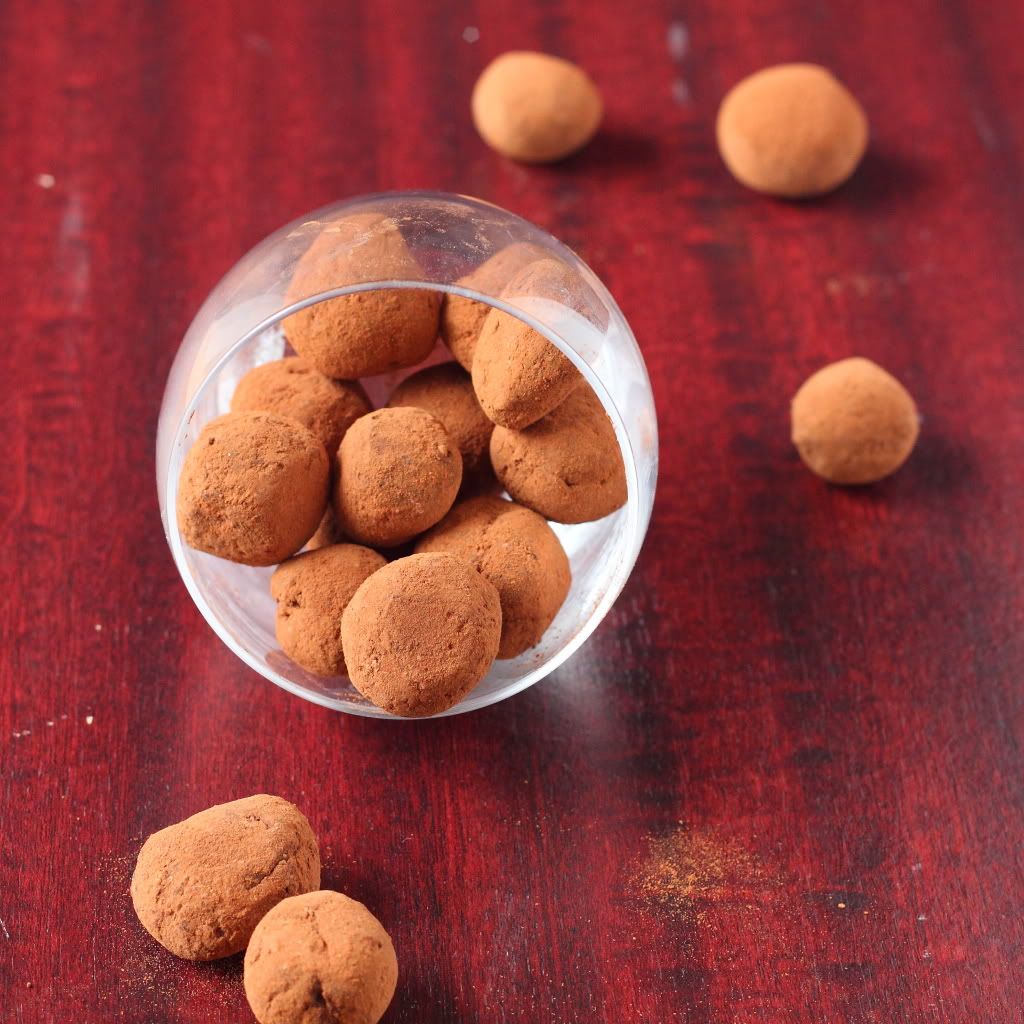 B
et You just cant stop with One !!! My foremost pallete love with Truffle was early this year when a family friend brought us a box of Belgian chocolate truffle.
Thought process with every bite ..
First bite and erm… erm… there is a bit more cocoa powder
Second bite and… erm … Its melting… ,Smile & a lil wink,
Just one more bite… and I am loving it….
Just loved them and cudnt stop with one!! Had my second go at it …. It was yummilicious…
To get to my perfect chocolate truffle recipe , I did my bit of research .Every recipe had its type , making procedure ,consistency , cooling process & coating … I wanted to enjoy a simple chocolate truffle in its original flavours and not any fancy one with nuts or more…. Without buying any fancy essentials, my kitchen stock had all the required ingredients and I cud kick off the process immediately. Isnt tat absolute pleasure ,when things happen as planned ( instant planning) ????
INGREDIENTS
| | |
| --- | --- |
| Plain Chocolate | 75 gm |
| Dark Chocolate – 70% Cocoa | 100 gm |
| Whipped Cream / Double Cream | 75 ml |
| Vanilla essence | 1 tsp |
| Cocoa powder | 4-5 Tblspn |
| Icing Sugar | 3-4 tsp |
DIRECTIONS
Use extremely good quality chocolate & cocoa powder for making Truffle. Everything comes from them… I have used Lindt Chocolates and Cadbury Cocoa Powder here.
Pour the Whipping Cream onto a milk pan. You could alternatively use Double Cream / Extra Thick fresh cream. Bring the cream to a rolling boiling point with continuous whisking. Turn of the gas and add in all the chocolate pieces.Blend them together with thorough mixing until we get a smooth mixture ,called ganache.
Throw in some vanilla essence and give the ganache a good stir.
Cover it with cling film and allow it to set in the fridge for roughly 1- 1.5 hours. It can take slightly longer for some..
When the mixture has set, use a teaspoon or a melon scooper to spoon out bite-sized pieces. Dust your hands lightly with icing sugar to prevent them sticking and roll the pieces into balls in the palms of your hands.
Immediately roll the truffles in sifted cocoa powder and place on the prepared tray to set.
Alternatively , just scoop out the set ganache with a tea spoon and gently drop a few onto the plate dusted with a bit of cocoa powder. Dust cocoa powder with the help of a tea strainer onto them. This will give us rock like appearance truffles. Lesser handling the chocolates is better as the warmth of the palm will cause them to melt.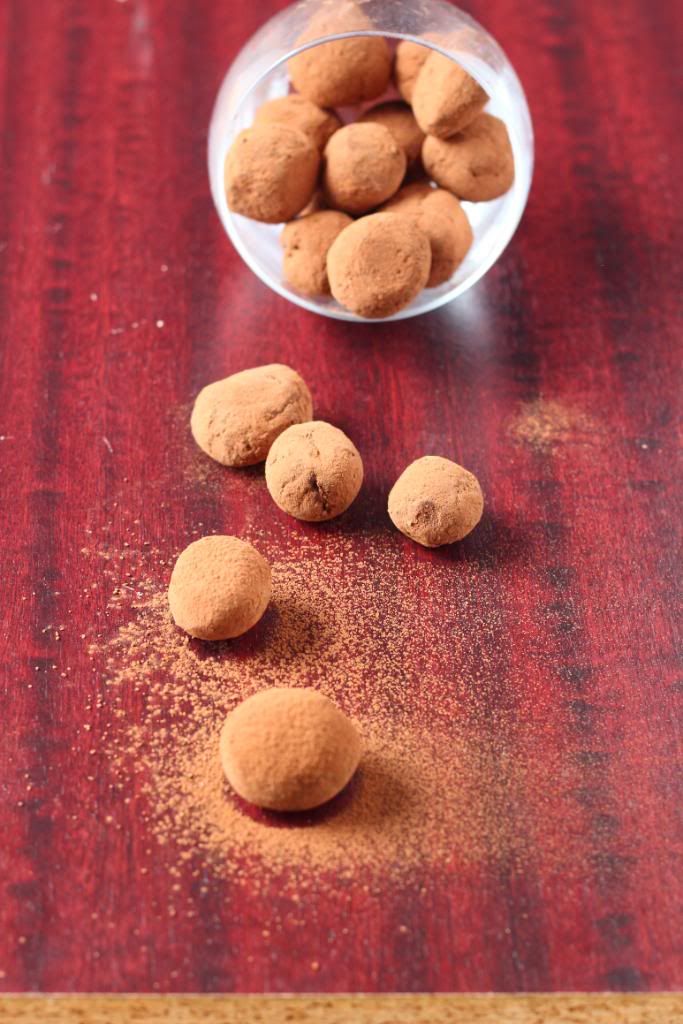 Storing & Serving
The truffles should be kept in an airtight container in the fridge. Dust a little extra cocoa powder with a tea strainer before serving to freshen them up. You can also keep the truffles in indivisual paper cases .
VERDICT :
My lovely tasters just close their eyes when they have the whole thing and explained the slow transformation of bitter coco powder to the melting chocolate until its all gone.. I wud say , This is Bingo for people who love truffle and appreciate a bit of dark chocolate..
Variations :
You could use in some nuts , icing sugar , melted chocolate for rolling the truffle. Try splashing sum bailey's irish cream / rum for liquerish truffles.
For people prefering less of dark chocolate , use just plain chocolate for melting.