June 16, 2010 by Sandhya Hariharan
C
all it Pulav or Pilav Rice its the same.. No complications No jhat jhat... .Just as the name .. easy peesy. We had Chilli Soya ,Pulav Rice & raitha for dinner during the easter break for friends... I have learnt this recipe every since I have been a kid... All credits to my dear mommy for this one!!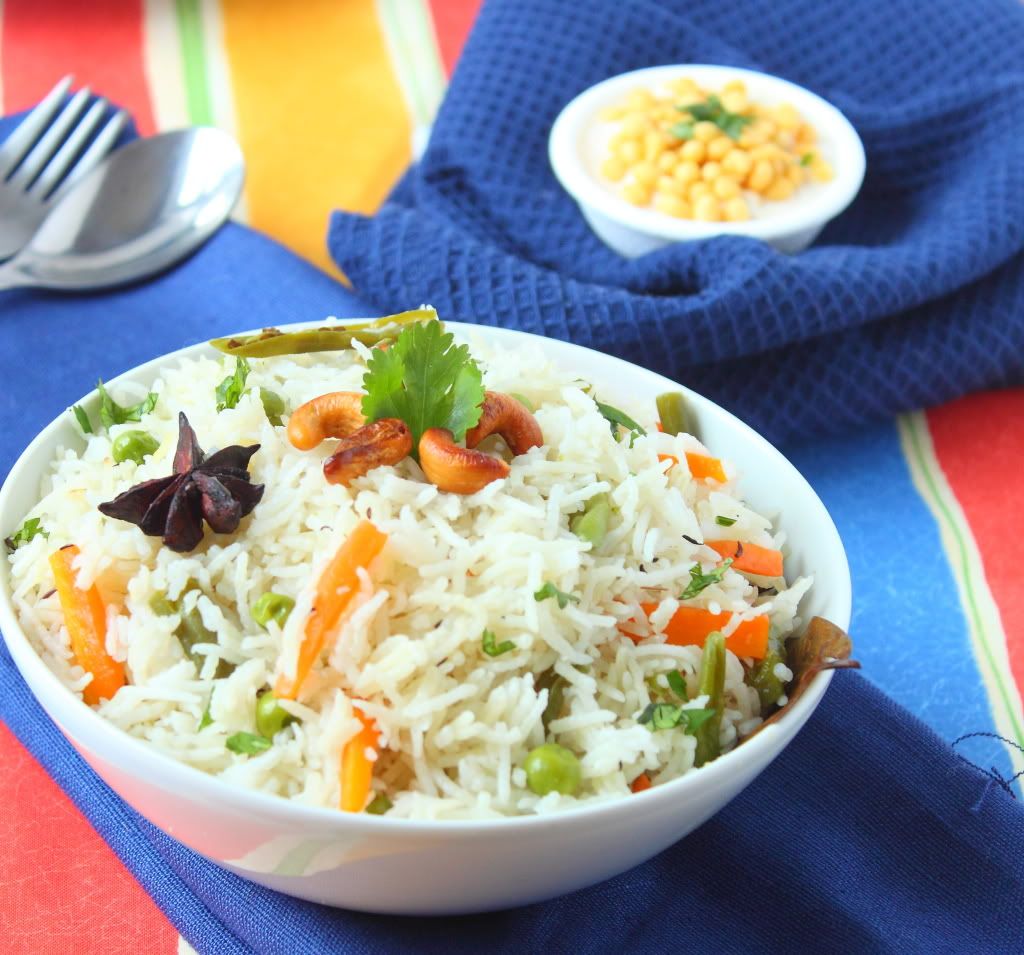 Total time taken: 45 minutes
Serves 5
INGREDIENTS:
| | |
| --- | --- |
| | |
| | |
| | Handful - About 8-10 No's |
| Green Chillies (optional) | |
| | |
| | |
| Freshly squeezed Lemon Juice | |
| | |
| | |
Whole Spices | Garam Masala's:
| | |
| --- | --- |
| | |
| Cashew Nuts fried in ghee | |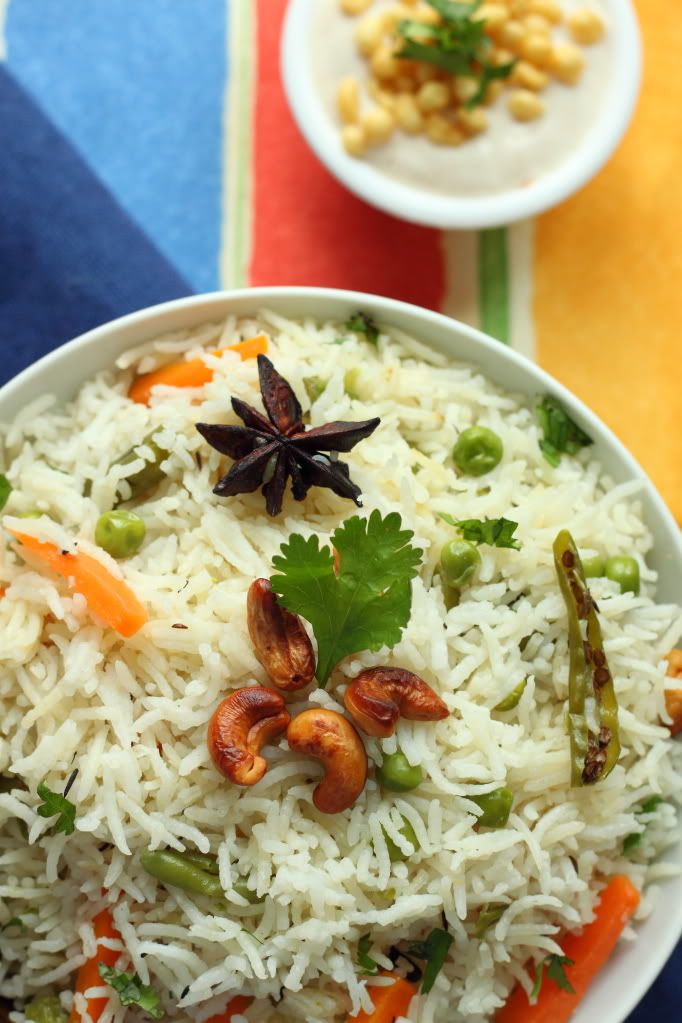 Wash Basmati rice under running tap water twice. Drain all the water and set the rice aside for 30 minutes.

In the meanwhile, dice the carrots and French beans. Prepare the garden peas by soaking them in water.

Heat ghee / knob of butter in a pan. Fry the cashewnuts in the lowest setting, turning either side until light brown. Drain them onto a kitchen towel.

Heat 2 Tbsp. ghee in a non-stick pan with a tightly fitted lid. Drop in Black Cumin Seeds & whole spices. Sauté for 2 minutes.

Add chopped vegetables, sliced green chillies, garden peas & sauté for 2 minutes. Stir in the Basmati rice and sauté along the vegetables for 2-3 minutes.

Add in 5 Cups of Water of boiled water from the kettle and adjust the salt. . Squeeze in some fresh lemon juice. Set the flame to medium.

Once the water from the pulav is nearly evaporated, cover, and then reduce the setting to lowest. Allow the rice to cook for 5 minutes and switch off the gas. Even if the gas is turned off, I would let the rice be covered for another 5 minutes. Rice cooks with the leftover steam. Garnish with chopped coriander leaves and fried cashew nuts.

Fluffy vegetable rice is ready to be served along with Curry or a Raitha.
KITCHEN NOTES:
My mom would cook them all up in the cooker.. and I prefer the open pot..

Use 2 Tbsp. Unsalted Butter if Ghee is unavailable.

When I cook Rice for kids, I avoid adding the chilly.

Optional vegetables: Potatoes